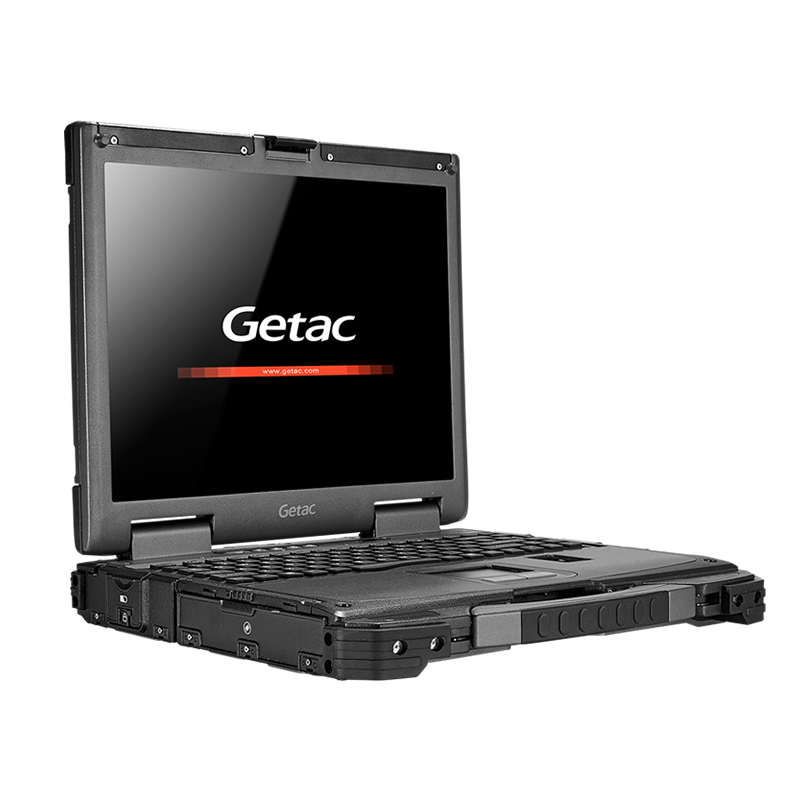 GETAC B300 13.3" Windows Endüstriyel Tablet
13,3" HD Ekran
6. Nesil Intel Skylake İşlemci
700NIT Yüksek Parlaklık (1400NIT Opsiyonel)
15 Saate Kadar Batarya Kullanımı
Yüksek Güvenlik Standartları
MIL-STD-810G ve IP65 Ultra Dayanıklı Laptop
5 Yıl Garanti
Powerful 6th Gen Intel® Core Processors.

The new B300 features the latest 6th gen Intel® Skylake Core™ i5 or i7 processor. Designed for performance and efficiency, these new processors clock in at up to 2.6 GHz with Turbo Boost speeds up to 3.4 GHz, giving the B300 the power needed to carry out the most demanding tasks from intricate mapping to live video processing and licence plate recognition.

Amazing Graphics.

New Intel® HD Graphics 520 delivers amazing graphics performance - ideal for mapping, video applications and multiple monitors.

Sunlight Readable Display.

The B300 features an available 1400 NITs QuadraClear® touch display. Our QuadraClear solution combines propietry technologies for both screen brightness and anti-reflectivity to provide an effective contrast ratio seven times better than other displays, while still maintaining the battery life you need in the field.

The QuadraClear display is powered by LED's that provide an energy efficient display that is mercury-free, durable and consistent in brightness over time. With an output rating of 1400 NITs of brightness, it's no wonder Getac's QuadraClear display has been called a "Stunning Feature"2.

Stay Productive Longer.

The Getac B300 has always featured the longest battery life in the industry. Designed to be even more power efficient, the latest generation ultra rugged notebook offers a truly remarkable battery life of up to 15 hours on a single charge. With the dual battery configuration, the B300 has a battery life of up to 30 hours, meaning you can do your job, wherever that is, for the full shift or deployment.

= up to 15 hours of battery life = up to 30 hours of battery life

Security Redifined

Experience an industry-leading suite of security features, including multi-factor authentication, to protect against malicious threats and intrusions.

TPM 2.0

The B300 features TPM 2.0 – a powerful anti-tampering device that checks for any signs of intrusion during system boot-up.




Absolute DDS

This optional protective measure disables your B300 if it detects an unauthorized or compromised entry.

Fingerprint Scanner

Verify your ID with ease and accuracy by simply swiping your finger.

Smart Card Reader

The B300 supports Smart Cards for secure identity verification.

NFC/RFIC Reader

Authenticate your credentials via Near Field or Radio Frequency transmission.

Windows 10 Security

The B300's hardware fully supports Microsoft's latest authentication tools, including Windows Hello and Microsoft Passport.

Ultrafast Connectivity.

With new 4G LTE, you can easily switch carriers without changing hardware.3 The B300 supports the next generation 802.11ac WiFi, the latest and fastest in wireless connectivity technology.

Built to Survive™.

Only Getac manufacturers rugged notebook computers down to the chassis. Built from high quality magnesium alloy, the B300 features four main casings specifically engineered to protect the computer against drops, shocks, heavy rain, vibration, dust and more. The B300 has been independently tested and certified to MIL-STD-810G, IP65 and MIL-STD-461F standards.

Core Manufacturer.

Getac is one of the largest manufacturers of magnesium alloy computer chassis in the world. Our expertise in manufacturing the housing itself provides key insight into how to make them stronger.

Fanless & Sealed.

Using a sophisticated copper pipe cooling system, we are able to efficiently dissipate the heat without the need for internal fans. This fanless and sealed design also protects the B300 ultra rugged notebook from dust and water.

Extreme Temperature.

Being able to work in any environment is critical - even freezing cold conditions or extreme heat. By insulating the hard drive inside a heating blanket, we are able to boot the computer without risk to the drive or its data in environments as cold as -290C and as hot as 600C

Night Vision.

Seeing in pitch darkness without being seen is important in covert operations. Our B300, with the click of a button, switches to Night Vision mode with full readability while wearing night vision goggles without an external filter.
Easy Access to Protected Connections and Ports.

With two USB 3.0, two serial ports, an Ethernet port and a VGA port, the B300 rugged notebook has plenty of ports to connect the peripherals that you use.

Backlit Keyboard.

The B300's keyboard is illuminated by a red backlight allowing you to type in the dimmest of condition without silhouetting yourself. Additionally, the red glow reduces eye strain and fatigue. The B300's island style independent keys provide an unmatched premium feel and increased durability.

Vehicle Ready.

Mounting a B300 in a vehicle for public safety or field service has never been easier. We've worked with two leading dock manufacturers to provide an ideal solution for you. The new B300 dock is designed to maximize the space available inside the vehicle by using a small docking station footprint. By connecting the antennas, peripherals and power to the docking station, you can quickly dock the computer in and out as needed during your shift.

Industry's Best 5-Year Warranty.

Accidents can take your equipment out of service when you least expect it, especially in a rugged environment, which can cause costly equipment downtime.
That is why Getac has introduced accidental damage as standard under our new Bumper-to-Bumper warranty, to help minimize your enterprise IT costs.
Bumper-to-Bumper is your hassle-free guarantee, supported by the best Pack & Collect logistics service in Europe, and rapid repair and return by Getac's in-house experts.
That means you can depend on us to have your unit back in service within days.

Standard.

5 years Bumper-to-Bumper
---